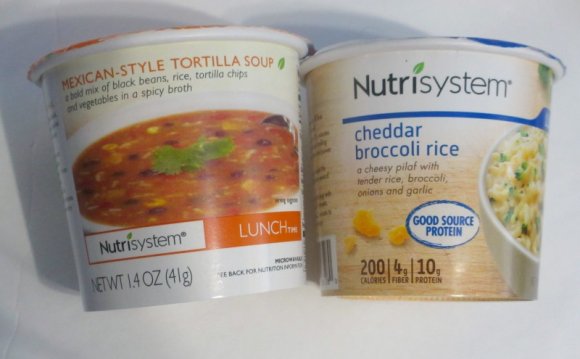 In the Nutrisystem weight-loss program you have more than 160 dishes to choose from. Meals are composed of 55 percent carbohydrates, 25 percent protein, and 20 percent fat. The usual meal plan cycle is 28 days. The meals sound very attractive, you will get three meals a day plus two snacks, and the calories are all controlled by portion size. Here are some examples:
Breakfast. Choices include apple cinnamon oatmeal, garden vegetable omelet, golden French toast, and blueberry bran muffin.
Lunch. Typical lunch options include chicken fajita melt, pasta with beef, cheese tortellini, and beans and ham soup.
Dinner. A dinner selection could be flatbread pizza, macaroni and cheese, Salisbury steak, or mushroom risotto.
Desserts. This weight-loss program has plenty of desserts to choose from, including puddings, chocolate cake, cookies, and shakes.
Snacks. To help control your hunger between meals, snacks such as sour cream and onion soy chips and granola bars are offered.
The cost of Nutrisystem weight-loss program is about $300 for a month's supply of meals and snacks. "You need to buy your own fresh fruit and vegetables if you want to supplement your diet. Other than that, there do not appear to be any hidden costs, " says Kimball.
Nutrisystem: Pros and Cons
"For someone who is too busy to shop and prepare nutritious, low-calorie meals at home, this weight-loss program is very convenient, " says Kimball. Other advantages include:
The diet is easy to stick with because everything is done for you.
Nutrisystem will customize its weight-loss programs for older men and women, as well as vegetarians and diabetics.
Nutrisystem provides weight-loss counseling online.
On the negative side, while Nutrisystem's menu offerings sound delicious, not everyone is going to enjoy the taste of a packaged diet food indefinitely. "The biggest drawback to Nutrisystem, as with any other popular weight-loss program, is that the diet is not sustainable, " says Karen Gibson, RD, a dietitian at the University of Texas Medical School in Houston.
"Although dieters may have enthusiasm in the beginning when they are losing the pounds, enthusiasm is hard to keep up when they are eating very differently from friends and family around them, " Gibson says. "It's unlikely that many people will continue to buy all their food from Nutrisystem for the rest of their lives."
Nutrisystem: Short- and Long-Term Effects
Gibson says that in the short term, Nutrisystem will help you lose weight. "Basically a calorie is a calorie, as far as our body sees it. Eat less of them and you will lose weight. We all want a quick fix. We want to lose weight fast and we want someone else to figure it out for us, but that just doesn't work in the long run, " Gibson warns. "If you are serious about weight loss you need to take ownership of the problem."
Says Kimball, "Nutrisystem is a good quick fix for weight loss, but not a substitute for a long-term healthy diet plan. Eventually you need to educate yourself about nutrition and understand how to make your own healthy choices."
Source: www.everydayhealth.com
INTERESTING VIDEO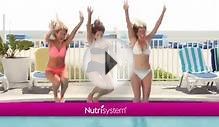 Walmart Nutrisystem Weight Loss Kit: Diet & Nutrition ...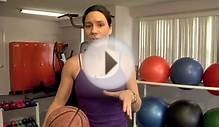 Nutrisystem Exposed from Empower Your Body Nutrition Fitness
Share this Post